20 Jan
The Most Common Garage Door Issues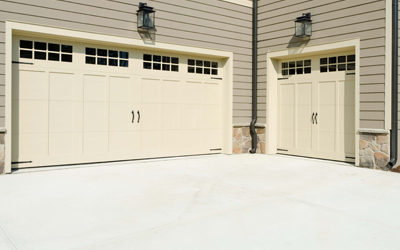 A garage door is something that protects your vehicle, garden equipment and other belongings from severe weather and also from intruders and burglars. It is important to understand the value of your garage door. Many homeowners do not pay attention on their overhead door until it creates a problem.
Almost every homeowner relies on their garage door to open smoothly and close securely every time they use it. These doors are very heavy in weight and it causes a number of problems. It the door is not working properly, much of that value lessens. Therefore, it is important to be aware of some regular issues with the door. When it creates problem while you open and close the door, it is annoying and potentially dangerous at worst. When you face any kind of problem with your door, it is important to call a professional as soon as possible. If you want to keep your overhead door free from issue, a regular maintenance and repair service is essential.
Missing or broken safety cables: When one or both springs break, it releases a huge amount of energy. If it uncontrolled, it can lead to a serious injury or can damage your vehicle or wall. However, properly installed safety cables prevent injury, accident or damage by controlling failed extension springs.
Jammed door: There are a number of reasons behind a door that is not open properly. If the door gets stuck at the halfway through closing or opening, it can be issued with the close limit switch. To fix the issue, first release the door from the opener and after that check the issue. Try to open and close it manually. Remove any debris, dust or other obstructions that may be in the rails.
Door makes awkward noise: When you hear a strange noise coming from the garage door, don't neglect it. It can be a sign of several issues with the wheel tracks. Check the wheel track first. If it is dry, lubricate it as soon as quick to prevent an accident or injury.
Spring malfunctions: Torsion springs are the most important part of the overhead door. They work under pressure every time when you open and close the door. Due to that lot of pressure, they break easily. The life of springs rely on the weight of the door and how many times you open and close the door. When you see a problem with them, call a professional.
Problem with track alignment: The metal tracks guide the overhead door smoothly up and down. Tracks and rollers are another area where problems happen. The tracks can get out of alignment, causing strange noise when opening and closing the door. Alignment and repair of overhead door track is a job for an experienced technician.
Sometimes it is very hard to understand when your garage door requires maintenance and repair services. As a machine, a door only works when its parts communicate properly. If you are facing any kind of problem with your overhead door, we can help you diagnose the issue and fix it for you.